Note: Kathy's Legacy does not share photos of the children's faces or use their real names. Names have been changed to protect their privacy.
6 years ago, Lauren, Julia and Sara's mother agreed to go shopping with her estranged husband to choose Christmas presents for the girls. While they were together an argument ensued and the woman got out of his truck. In a fit of rage, the estranged husband intentionally ran the 37-year old woman down and then proceeded to run her over killing her. He then tried to take the three young girls aged, 10, 8 and 3 with him as he fled to Mexico. Thankfully their grandmother persuaded him to leave the children behind.
This tragic event happened just blocks from the children's home and they since have been forced to see this heart-wrenching location every day of their lives. The three girls, without parents, were placed in the care of their elderly grandparents who were not only devastated and mourning the loss of their daughter but suffering from significant health issues. The loving grandparents were not prepared for this tragedy or to become the sole caretakers for three young girls while living on a very tight, fixed income.
Upon the conclusion of the murder trial, the grandparents and girls were referred to Kathy's Legacy from the DA's office and became our first Silver Lining family. No longer wanting to share the same last name as their father, Kathy's Legacy assisted this family with legal name changes for the girls so they could begin the healing process.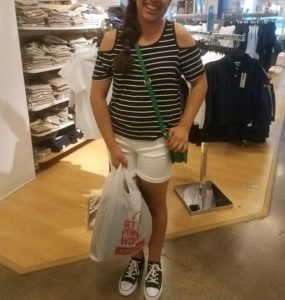 Lauren, the eldest, is now 16 years old. She was withdrawn, quiet and recoiled when anyone tried to reach out to her after her mother was murdered. She is now a sophomore in high school and enjoys dance classes and would like to learn to speak French. Lauren is excited about going to college and is researching schools at the local library!
Julia is now 13 years old and an avid reader of Harry Potter books. She is passionate about playing lacrosse and joining cheer. Julia looks forward to next year, when she can join her sister in high school.
The youngest, Sara, was only 3 when her mother was murdered. She clung to her grandmother for quite a while after the trauma. She is very proud that her softball team won their championship last season. She is now a somewhat shy 8-year-old who has a passion to play softball.
Over the years, Kathy's Legacy has been a continuous and reliable source of support both emotionally and financially for this family.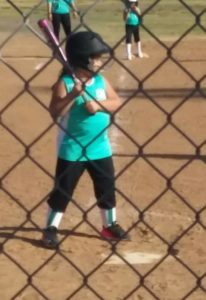 It is with great joy we have been able to provide them with essentials to restore normalcy in their life such as braces, school uniforms, softball registration and equipment, dance classes and costumes, a laptop and a printer. Some of the most meaningful experiences for these young girls most of us take for granted. Executive Director Ginny Scharbarth accompanied them to get professional haircuts, something they had never done before. The girls had huge smiles on their faces as they sat in the chairs for the first time. They have made fun childhood memories and friends with other Silver Lining kids during Kathy's Legacy family outings such as the Pizza Run 5k, Bowling party, Fleet Science Center, Christmas party, and more.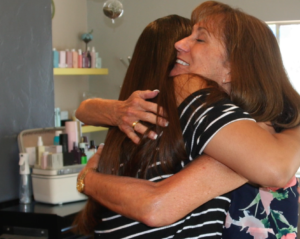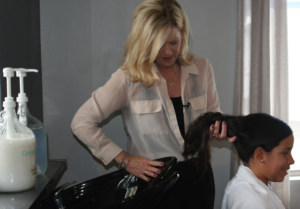 Kathy's Legacy is honored to be invited to the girls' dance recitals and softball games. We hope to continue to make a positive difference in their lives and walk with them through the grief journey.