Note: Kathy's Legacy does not share photos of the children's faces or use their real names. Names have been changed to protect their privacy.
In August 2017, Kelly, at the time age 9 and Joey age 8, were eating breakfast when their mother's boyfriend, came running down the stairs in a hurry. As he was leaving, he told the children to not go up to their mother's bedroom. As any curious children would, they immediately went upstairs to their mother's room where they discovered her on the ground, beaten to death. Their mother had suffered trauma to the back of her head and upper torso and blood was spattered in the room. Once she realized her mother was not responding, Kelly called 911 and family members.
Kelly and Joey were then left with a mortifying last image of their mother and left in the care of their grandmother. Their grandmother has multiple injuries and is disabled in a wheelchair. Her disability prohibits her from being able to drive. In 2019, the family was referred to Kathy's Legacy by the District Attorney's office. Kathy's Legacy has funded transportation because it is essential these children attend therapy sessions to help cope with the trauma they experienced. As of recently, the children have struggled with cutting and extreme night terrors.
Similar to other Silver Lining families, they are desperate to have a legal name change in order to help with the family's healing. Kathy's Legacy has been assisting them with this process.
Kelly loves purses, nail polish and makeup and Joey enjoys Pokémon and video games. Both children are interested in playing sports but due to COVID19 that has not been an option. However, they have both have found an interest in cooking and baking!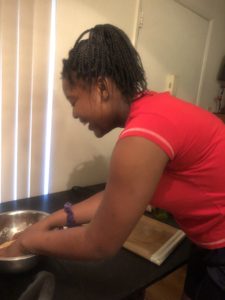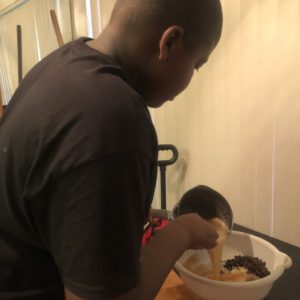 Over the summer Kathy's Legacy has sent them the ingredients to make homemade fudge, cinnamon rolls, pizza and more! We are thrilled they have found an activity they are passionate in learning more about and trying new things!
We look forward to being able to have family events soon as both Kelly and Joey always have a great time interacting and playing with the other Silver Lining children.