Support Kathy's Legacy with Minted holiday cards & gifts
This holiday season, we're partnering with Minted and we need your help! To support Kathy's Legacy, simply shop Minted holiday cards & gifts using the code FUNDRAISEKATHYSLEGACY. Using code FUNDRAISEKATHYSLEGACY for all your holiday card & gift purchases, will get you 20% off cards and gifts and they'll donate 15% to Kathy's Legacy to make a difference for children and pets impacted by domestic violence.
Shop at: minted.com/holiday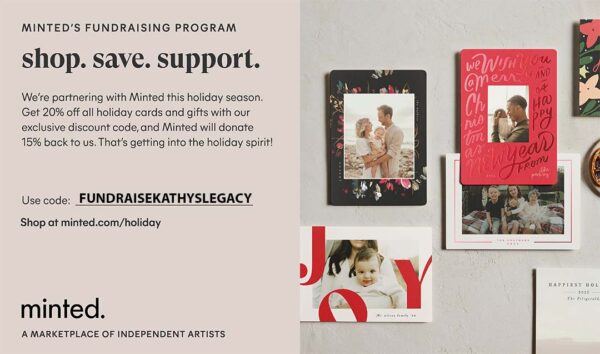 Every Dollar Helps Kathy's Legacy Support Victims of Domestic Violence
The foundation's events, work, and dedication stem from the heartbreaking story of its namesake, Kathy Scharbarth, who was a loving mother, daughter, pet owner, and domestic violence victim. Her family founded Kathy's Legacy to honor her life and circumstances. They appreciate and are grateful for everyone who helps them carry out their mission, learn more ways you can help support victims of domestic violence and support your community here.
Follow
IG: @kathyslegacy
Twitter: @kathyslegacy