The only memory better than an evening out with friends and family is one for a good cause.
Last Thursday, Kathy's Legacy, a foundation dedicated to helping children and pets impacted by domestic violence, hosted a remarkable fundraising dinner at Park 101 in Carlsbad. From 5-8 pm, 20% of all proceeds from diners with the Kathy's Legacy wristband would go towards the organization's mission: creating a community of trust and generosity with often overlooked victims of domestic abuse.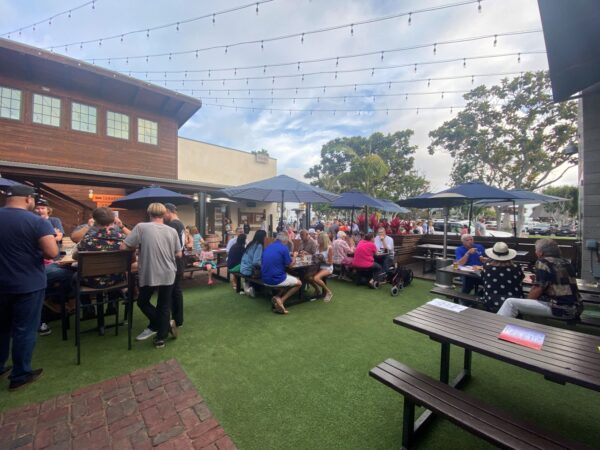 The night brimmed with laughter and joy as 76 guests arrived at the fundraiser with their pups and pets to enjoy the delicious dishes, catch up with old friends, and make new ones. Conversations abound, sports games humming in the background, each guest made memories and tightened the bonds of community that Kathy's Legacy and its founder hold so dear to their dreams and hearts. Every guest's purchase made a difference for children and pets relying on the organization's persistent efforts to help them recover and grow peacefully.
Carlsbad's Park 101 opened up a perfect outdoor patio for this gathering and provided ample support to make this event the absolute best it could be. Kathy's Legacy is grateful to them for being generous hosts and creating a welcoming space for guests to relax and contribute to a heartwarming cause while feasting on their incredible barbecue and smoked delicacies.
The proceeds from this event will truly change the lives of every child and furry friend involved with Kathy's Legacy.
Whether it be providing financial assistance for everyday necessities or organizing opportunities for normalcy with art lessons and summer camps, their Silver Lining program builds a relationship with families who need someone to lean on. The other half of the foundation focuses on the health and well being of the pets trapped in these traumatizing positions. The Lady's Legacy program ensures a steady support system for any pets who are caught in the crossfire of domestic violence and need a safe home. The program streamlines the foster process by partnering with local organizations like ​​the Women's Resource Center, Amazing Strays Rescue, and the San Diego Humane Society.
The foundation's events, work, and dedication stem from the heartbreaking story of its namesake, Kathy Scharbarth, who was a loving mother, daughter, pet owner, and domestic violence victim. Her family founded Kathy's Legacy to honor her life and circumstances. They appreciate and are grateful for everyone who helps them carry out their mission, including those who came out last Thursday to help make a difference.
Follow
IG: @kathyslegacy
Twitter: @kathyslegacy